In This Issue

Last Week in Review:The Fed met, and inserted a "twist" into things.Forecast for the Week: A full week of economic reports is ahead, including news on inflation, the state of the economy, consumer confidence, and more.

View: No one wants to get a bad rap, especially online. Check out Part 2 of our series on improving your online persona.
Last Week in Review


"Twist and shout."The Fed inserted a "twist" into the market last week, but only time will tell if their decision will be cause for shouting. Read on to learn what the Fed did, and what this could mean for home loan rates.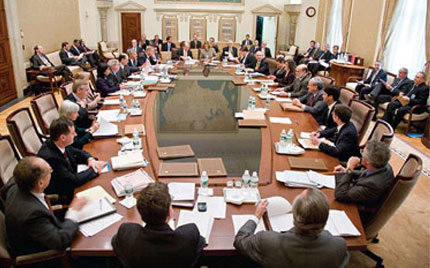 The week began with speculation that the Fed would announce "Operation Twist" after its two-day meeting of the Federal Open Market Committee. What is Operation Twist? Essentially, Operation Twist is where the Fed sells its holdings of short-term securities and Notes and then purchases longer-term Notes and Bonds in order to try and lower longer-term rates even further.

And Operation Twist is exactly what the Fed announced, but their announcement came with some key surprises:
First, the Fed's statement was more strongly worded than expected, as the Fed said that there remains "significant" risks to the downside for the US economy.
Second, the funding for Operation Twist was larger than expected, coming in at $400 Billion.
Third, the Fed said they will reinvest principal payments on their current holdings of agency debt back into Mortgage Backed Securities…which led to a huge rally in the Bond Market Wednesday, while Stocks took a nose dive. 
So what does all of this mean for home loan rates? The Fed's statement has heightened pessimism, fear, and concern…and normally those sentiments help Bonds (including Mortgage Bonds, to which home loan rates are tied) improve as investors seek a safe haven for their money. But it's important to understand that even if Bonds improve, home loan rates may not improve much further.
Why? It is basic supply and demand: lenders' pipelines have been overflowing with people wanting to refinance or purchase a home and take advantage of the historically low rates we've seen. This level of volume flowing into the system has already created a backlog of work for lenders, which means they may not pass along all the gains we are seeing in the Bond Market onto their rate sheets.
The bottom line is that home loan rates remain near historic lows, and now is a great time to purchase or refinance a home. Let me know if I can answer any questions at all for you or your clients.
Forecast for the Week


Economic data will impact trading throughout the week by giving investors a broad look at the economy:
Housing will be first up with New Home Sales on Monday.  Last week's housing data was mixed with lower than expected Housing Starts but Existing Home Sales came in on the positive side. Pending Saleswill also be reported on Thursday.  
The week will also give us a read on how consumers are feeling in this weakening economy. Consumer Confidence will be released on Tuesday and Consumer Sentimentwill be delivered on Friday.
Weekly Initial Joblessclaims will also be closely watched on Thursday. The job markets continue to be a drag on the economy as each week over 400,000 people are claiming unemployment benefits.
The big news this week will be the government's report on Gross Domestic Product (GDP), which will be released Thursday. With the economy slowing, GDP will be on the radar screen for signs of recessionary numbers. Also important will be Wednesday's Durable Goods Orders, which gives us an update on consumer and business buying behavior on big-ticket items.
Investors will also be closely watching the inflation figures within the Core Personal Consumption Expenditure, which is the Fed's favorite gauge of inflation and will be reported on Friday.       
In addition to those reports, investors will be closely watching the movements in the Stock Market after last week's plunge. The big questions will be: How low can Stocks go? And, are we in a bear market or just a correction phase?
Remember: Weak economic news normally causes money to flow out of Stocks and into Bonds, helping Bonds and home loan rates improve, while strong economic news normally has the opposite result.
As you can see in the chart below, Bonds rallied last week, though they did give back some of their gains on Friday. I'll be watching both Stocks and Bonds closely this week to see which way the markets move.
Chart: Fannie Mae 3.5% Mortgage Bond (Friday Sep 23, 2011)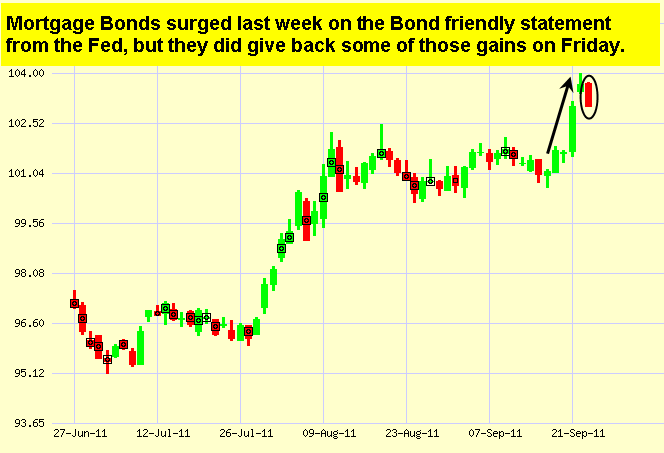 The Mortgage Market Guide View…


What Does the Internet Say About You?Part 2: Simple Steps to Improve Your Online Persona
Your online persona is a lot like a credit score. It's already out there whether you check it or not. And other people can review it at any time.
The similarities don't end there. Like a credit score, you can review your online persona and work to improve it…so when people like potential clients look at it, they'll see what you want them to see.
Step One: Evaluate Your Online Persona
In order to know what your online persona looks like, you have to actually check it. So start by opening your web browser to a search website such as Google.com, Yahoo.com, Ask.com, AltaVista.com, Lycos.com, or Microsoft's new Bing.com. Then simply type in your name and hit search. Scan through the first two or three pages to see what items are coming up most often, and make note of any negative news that you'd like to get removed.
You can also do more specific searches. For example, you can type your name in parentheses along with your email address, the name of your college, your job title, a hobby, or even other people's names. For example, you could type "your name + friend's name" or "your name + college name." You may be surprised what you find with some of these specific searches.
Once you've searched your name on one site, open another and do the same thing. You'll probably find a number of similarities, so you only need to check a few different sites to get an idea of what the Internet says about you. Remember to take specific notes about false or unflattering information. You'll want to write down what it is, where it appears, and why it shouldn't be there.
Finally, don't forget to search for videos and images! After all, one of your friends may have posted photos and tagged you in the photo without you realizing it. You can use some of the same sites listed above—only this time, click the video or image search button before you search for your name.
Step Two: Remove Anything Negative
Like your credit score, if you find information on the Internet that is inaccurate or inappropriate, your first step should be to try to get it removed. This is where those diligent notes from step one will come in handy.
First, if you found something unflattering that you actually posted in the past, remove it yourself. For example, if you posted pictures or stories on an old blog, go back and remove them. In addition, take the time to go through any websites or social networking sites where you control the information. Maybe you have a blog, website, or social networking site that features pictures and text that you post. Go back through the information to make sure you still want people to see or read it. If not, remove it immediately…even if it didn't show up in the search you conducted.
Second, if you found information on other websites that you think should be removed, contact them right away. Start with the websites that have the worst (most egregious or most inaccurate) information. Using a polite but firm tone, explain what content you found on their site, why it's a problem, and then specifically ask them to remove that information from their site. Be as specific as possible. If the information is false, say that. If the information is private and used without permission, say that. You may even want to include a link to the material to make sure they can quickly find the problematic information that you're asking them to remove.
It's a Marathon…Not a Sprint
Remember, the Internet has a long memory. So it may take some time for those negative elements to stop showing up in searches. But by removing them, you can help make sure that even if they do show up in a search, people won't be able to actually view the detailed information when they try to click the link.
When you combine the steps above with the process of adding new more professional content to your website, blog or social media sites, you'll be able to continually improve your online persona!
Economic Calendar for the Week of September 26 – September 30
| | | | | | | | |
| --- | --- | --- | --- | --- | --- | --- | --- |
| Date | ET | Economic Report | For | Estimate | Actual | Prior | Impact |
| Mon. September 26 | 10:00 | New Home Sales | Aug | 293K | 295K | 302K | Moderate |
| Tue. September 27 | 10:00 | Consumer Confidence | Sept | 46.7 |   | 44.5 | Moderate |
| Wed. September 28 | 08:30 | Durable Goods Orders | Aug | 0.0% |   | 4.1% | Moderate |
| Thu. September 29 | 08:30 | Jobless Claims (Initial) | 9/24 | 420K |   | 423K | Moderate |
| Thu. September 29 | 08:30 | Gross Domestic Product (GDP) | Q2 | 1.2% |   | 1.0% | Moderate |
| Thu. September 29 | 08:30 | GDP Chain Deflator | Q2 | 2.4% |   | 2.4% | Moderate |
| Thu. September 29 | 10:00 | Pending Home Sales | Jul | -1.3% |   | -1.3% | Moderate |
| Fri. September 30 | 08:30 | Personal Income | Aug | 0.0% |   | 0.3% | Moderate |
| Fri. September 30 | 08:30 | Personal Spending | Aug | 0.2% |   | 0.8% | Moderate |
| Fri. September 30 | 08:30 | Personal Consumption Expenditures and Core PCE | Aug | 0.2% |   | 0.2% | HIGH |
| Fri. September 30 | 08:30 | Personal Consumption Expenditures and Core PCE | YOY | NA |   | 1.6% | HIGH |
| Fri. September 30 | 09:45 | Chicago PMI | Sept | 54.0 |   | 56.5 | HIGH |
| Fri. September 30 | 10:00 | Consumer Sentiment Index (UoM) | Sept | 57.6 |   | 57.8 | Moderate |
The material contained in this newsletter is provided by a third party to real estate, financial services and other professionals only for their use and the use of their clients. The material provided is for informational and educational purposes only and should not be construed as investment and/or mortgage advice. Although the material is deemed to be accurate and reliable, we do not make any representations as to its accuracy or completeness and as a result, there is no guarantee it is without errors.
Certified Mortgage Planner, Curtis Schartz, Home loan, Interest Rate, Interest Rates, kansas city, lees summit, lower interest, lower rates, Mortgage, mortgage backed securities, no cost refinance, overland park, Pulaski Bank, purchase, rate, Rates, Refinance, shawnee